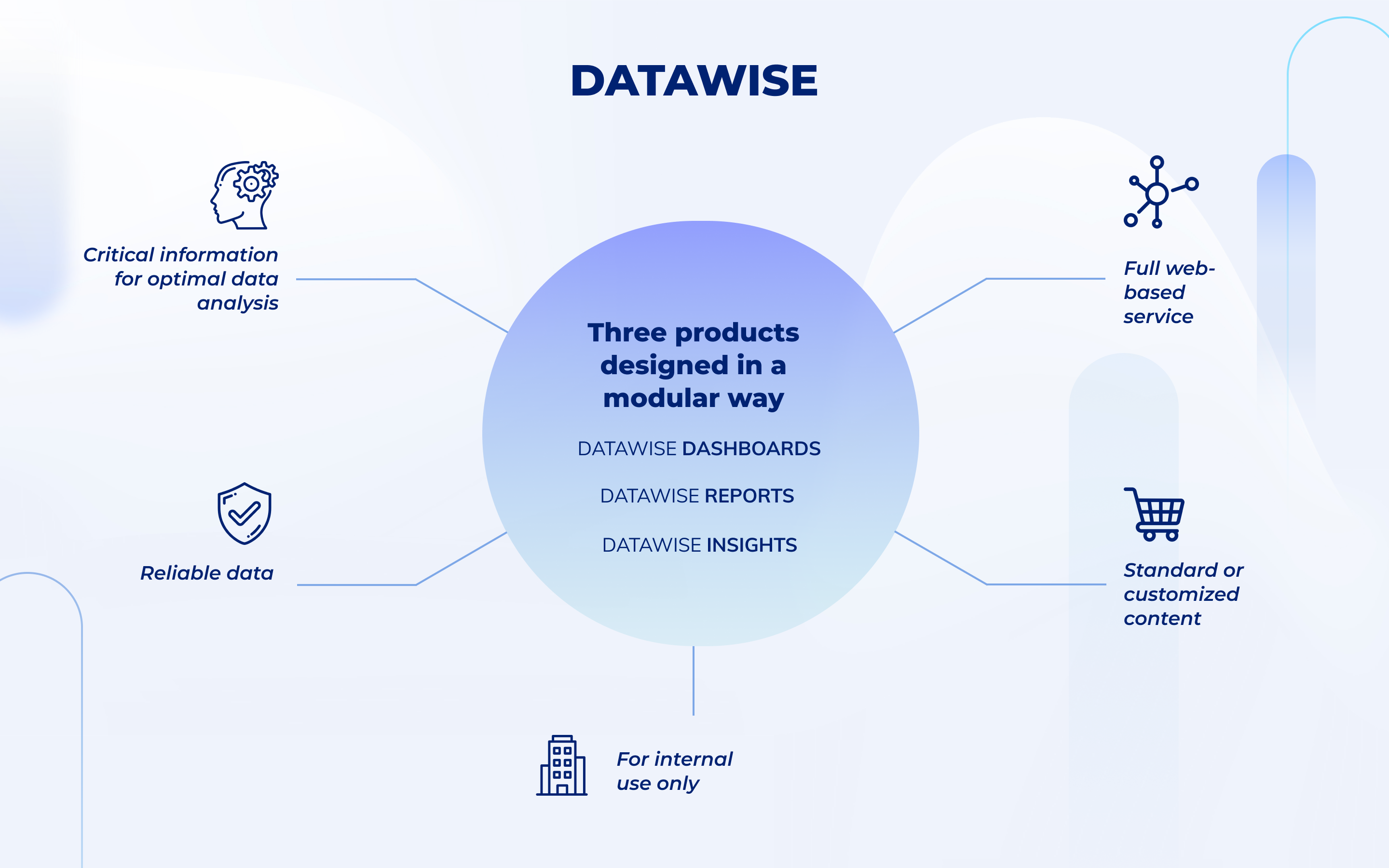 Website Information and personal service:
B3's data analysis tool that facilitates trading decision making is now available in three different modules:
DATAWISE DASHBOARDS
Format: Interactive panels

For behavior analysis of the stocks, derivatives and futures segment, and securities lending, among others
DATAWISE INSIGHTS
Format: Interactive panels

For detailed analysis of individual investors' behavior
DATAWISE REPORTS
Format: xis, txt or pdf files

For analysis of asset trading and post-trade data mainly from the OTC market
Thousands of interactions, flows and processes occur daily through B3 systems that generate a high volume of data. To consolidate and enable easy interpretation of data that is relevant to your business, we created DATAWISE.
DATAWISE is a state-of-the-art data analysis tool that provides you with data-driven decision making via dashboards online customized according to your needs.
Integrate market data into your daily trading routine with DATAWISE:
DATAWISE DASHBOARDS

Data from the markets served by B3 (stocks, derivatives, futures, and securities lending among others) that are produced and provided via dashboards allowing interaction with filters and historical statistics series. Check out some examples of data that can be accessed via DATAWISE ANALYTICS:

Listed segment trading, settlement and custody rankings
Investment level of Brazilian regions organized by city and municipality
Specific information regarding each issuer's ticker
Trading flow for all assets by final investor type
Assessment of your seal ranking against the other participants

And much more. Click here to learn about the DATAWISE packages available

DATAWISE INSIGHTS

Data from the markets served by B3 crossed with public information (Central Bank of Brazil, IBGE, Ipeadata, etc) that allow a detailed analysis of individual investors' profile. Check out some examples of data that can be accessed via DATAWISE Insights:

Understanding the potential audience for the consumption of capital market products
In-depth data on savings accounts, bank branches and retirees.
Metrics to identify suitable Brazilian regions to attract investors and other strategies, including data from the Central Bank of Brazil and other external variables.

And much more. Click here to learn about the DATAWISE packages available

DATAWISE REPORTS

Availability of files with data on markets served by B3 (OTC derivatives, fixed income, etc) in a private repository containing the following:

Report with Derivatives rankings (Swap, Forward and Options) and Fixed Income
Database with new records (movements), trades (secondary market) and stock of Derivatives, CDB, LF, LCA, LCI, Debentures, and other OTC instruments
Possibility of file customization

And much more. Click here to learn about the DATAWISE packages available
Learn about the benefits of DATAWISE for your business:
Strategic data

Interactive reports or dashboards with a high volume of data on the markets served by B3

Relevant analysis

Discover and learn how to interpret relevant DATAWISE data patterns that may help you create the right strategies for your business

Easy access

View the DATAWISE content in a web-based, safe and intuitive environment anywhere

Expert support

Our team of experts is ready to provide you support if you need help with DATAWISE or have any questions

Joint development

Talk to B3 and help improve and develop the DATAWISE products
DATAWISE in numbers
145+

Clients
200+

Files available monthly via DATAWISE Reports
48+

Interactive data analysis dashboards via DATAWISE Analytics and DATAWISE Insights
Any query? Talk to us
Telefone

Sale: +55 11 2565-7908
Contracting: +55 11 2565-5084
Technical Support: +55 11 2565-5111
DATAWISE is exclusive to legal entities, therefore, if you are an individual and have questions about the content of the site we kindly ask that contact our customer service team through the page https://atendimento.b3.com.br/atendimento